Experience the Horror at KneeKnocker Woods Before it's Too Late!
Home » Blog » Nebraska Haunts: An In Depth Look, NebraskaHauntedHouses.com News and Updates, Nebraska Haunt News
October 26, 2018 By Haunt News & Press Releases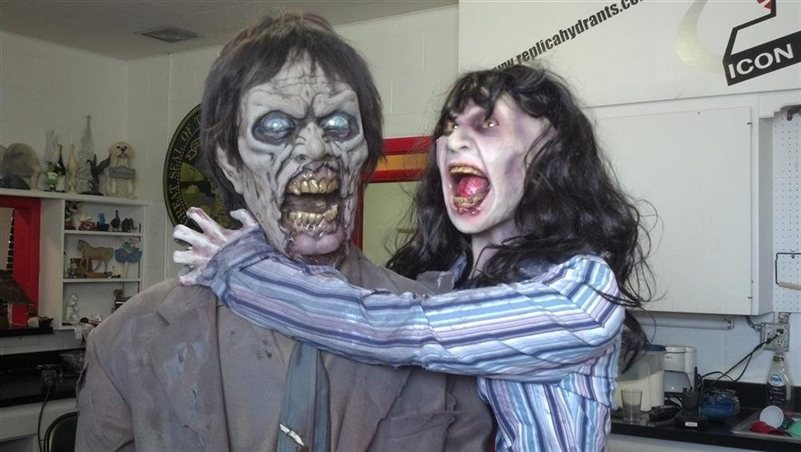 NebraskaHauntedHouses.com recently sat down with Kylee Vohland of KneeKnocker Woods, to discuss what's new at the attraction for the 2018 Halloween Season!
What's new at KneeKnocker Woods for 2018? Do you have any new rides, attractions, or special features that Haunt Seekers should know about?
The year KneeKnocker Woods has added the Zombie Zip! The Zombie Zip is a zip line that soars you over the monster-infested 13th Acre corn maze. Can you escape?
What differentiates KneeKnocker Woods from other local haunts in Nebraska?
KneeKnocker Woods is a haunt never before experienced in the area. Guests can enjoy our award-winning trail, Grandpa Grimm's KneeKnocker Woods. Also, we offer two 3 minute Escape Games and The 13th Acre Corn Maze with the Zombie Zip, and Grandma Grimm's Attic. A fundamental way we differentiate from other local haunts is by our wait system. Guests get entered into an online wait list that sends them a text when Grandpa Grimm is ready for them to walk his trail. The wait list gives guests a chance to experience our other attractions, or even have dinner, instead of waiting in a roped queue line.
How long has KneeKnocker Woods been in business? Can you tell us a bit more about KneeKnocker Woods's history?
Grandpa Grimm's KneeKnocker Woods was brought to life by the owners and family of Icon Poly, a custom 3D sculpture fabrication company, five years ago.
How long is a typical haunt experience at KneeKnocker Woods from start to finish?
Once customers enter Grandpa Grimm's trail, the experience lasts roughly 20 to 30 minutes.
On a scale from 1 to 10, how scary would you say KneeKnocker Woods is? Why?
It's hard to rate our attraction on a 1 to 10 scare scale. We pride ourselves in the experience of the thrill of the cornfield and wooded area along with state of the art animatronics rather than in your face scary.